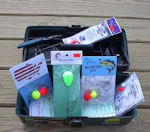 Organizing Your Tackle Boxes  by Sue Foster

             Every spring anglers spend a day, or more, organizing their fishing tackle to get ready for another season of fishing in and around Ocean City, MD.  A reader of mine asked me to write an article on what to put in a tackle box.  When I think of all the fishing tackle that is lying around, and what to put in a specific tackle box, one angle of the article may be "what NOT to put in the tackle box!"   It's like the t-shirt drawer. If you stuff so many shirts in one drawer so it will barely close, you'll never be able to find what you are looking for. Where's my favorite rig I was looking for all day? Hiding all the way on the bottom of the cluttered box!
 
           Rather than use one big tackle box, I like to arrange my fishing tackle into smaller, "fishing specific" tackle boxes. I just use those inexpensive plastic boxes with one fold out tray, and put enough fishing tackle in it for two or three trips.  After each fishing trip, replace the rigs you lost, re-package the loose rigs into zip lock baggies after washing them off in fresh water and drying them.  Sometimes you can put them back into the packages them came in. You may have to staple them shut. Whatever you do, it's important to get those loose rigs with hooks out of the box so you don't accidently hook yourself! Throw away any old packaging that is empty. Sometimes you think you got a lot of rigs in your box and they're all empty!!!

            "So how many tackle boxes do I need?"

            It depends on how many different kinds of fishing you do!  I have a flounder box, a surf fishing box, an inlet box, a tautog box, and a party boat box. You do not need a huge amount of tackle in each box, but it's important not to grab items out of one box and forget to replace them!  SO, it's important to have certain important things like snap swivels in every one of your tackle boxes!  You don't need 50 in each one, but it is important to have at least a half dozen in each one and replace them as you use them. Having 50 in one box and none in the box you take to go fishing that day can be very frustrating.

            Let's take it one tackle box at a time! First of all, let's fill the flounder box!  Start with a dozen pre-made flounder rigs. Buy the packaged ones that are all ready-to-fish where all you have to do is add the sinker. An array of colors is good. Have white, chartreuse, and in the spring, always have a pink one. (If you buy loose rigs not in packages, take them home and put them into plastic bags. Pint-sized freezer zip lock bags make nice rig bags you can use over and over again as they are heavier than regular zip lock bags.)  Sinkers are very important. Try to have three of each size for each person that is fishing; Bass cast for drifting in the boat and regular bank sinkers from the shore. One, one and a half, two, and three-ounce are your basic sizes. Again, replace what you lose each trip when you get back. Snap swivels are important to put on the end of your line so you can change your rigs easily and help eliminate line twist. Size 3 is a good universal size. A package of 6 or 12 is all you need. I like to have a few extra barrel swivels in my box to repair any rigs. I like to keep a pack or two of "fake baits" in each of my boxes. For flounder, a pack of Berkley Gulp 3 or 4-inch Swimming Mullet or Minnows is always good.  Then, in every box, I like to keep a little bait knife, a small pair of pliers and/or scissors or clippers. You can buy those combo tools that work really well. If you use Spectra Line such as Power Pro or Fire line you really need those scissors or cutters that will cut that kind of line.  

            If you use pre-made rigs, that's all you need. If you make up your own rigs, you need to buy top and bottom rigs and packs of leadered hooks instead of the pre-made rigs. I always try to keep extra rig bags or zip lock bags in each tackle box to re-package rigs right away so they are not lying loose in the tackle box. (This is one of those- do as I say not as I do!)  Follow the seasons a bit as well. If you know you will be catching bait spot, always keep a couple spot rigs or Sabiki rigs in your box as well along with a pack of bloodworm Fishbites.

            Fill the Surf Box in a similar way. A dozen pre-made surf rigs, including bluefish rigs, striper rigs, and kingfish rigs. Pyramid or Hurricane type sinkers in 2, 3, 4, 5-ounce sizes are a must. I always have a couple Sputik Sinkers with the retractable wires in 2 to 4-ounce range for those "hard to hold" days. Snap Swivels and a few fish finder rigs are in my box. A little hook sharpener or stone is good when surf fishing. Always have a pack of bloodworm Fishbites in case the spot, croaker, or kingfish start biting. Pliers are a must for skates, rays, and sharks. Carry a knife for cutting bait.  Carry extra hooks for the whole mullet rigs. Surf boxes always get sand in them so keep them simple, and go through them often.

            In my Inlet Box, I carry bucktails, Berkley Gulp in a couple swimming mullet colors, some plastic curtail grubs in 4 and 6-inch. Leader material in 30 to 40 pound test is what you want to tie your lures on.  Carry three or four each inline sinkers in one, one and a half, two, and three-ounce weights. Snap swivels of course!  Throw in some of your favorite hard lures such as Got-cha Plugs, Spec Rigs and Spoons.  Saltwater dropper fly rigs have become very popular at the inlets. If you take them, you'll want a few larger bass cast sinkers in the 2 to 4-ounce range.

            In my tautog box I carry at least six loose hooks of each size in Octopus style starting with size #1 and going up to size #3/0. (#2/0 is the most popular.) I have several coils of 40 pound test leader (you can use fluorocarbon, leader material, or just some plain monofilament line), rubber bands (to attach my sinker so if the sinker gets hung I can break it off and not lose a good fish), a pair of scissors to cut the green crabs in half, barrel swivels to make up tautog rigs, and flat, cushion, or inline sinkers in size one, one and a half, two, and three ounce.  (I keep at least 6 sinkers of each size in my box.)
 
           Party boat box!  The main thing is sinkers!  I carry four each of three, four, five, six, and eight ounce bank style sinkers.  A spool of fluorocarbon leader in 30 or 40 pound test is good to make rigs out of. If you don't want to use fluorocarbon take the same pound test in leader material.  A couple packs of loose kahle hooks in size 4/0 and 3/0. These are the hooks the party boats usually use. Have a pack of smaller hooks if the triggerfish are biting.  Some anglers like to use jigs. If you like them, have a couple Spro Bucktails and a couple metal jigs in the 3 to 6 oz range.  A pack of three or four-inch curltail grubs in chartreuse color is good to add to your hooks. (Or Berkley Gulp in the same style.)  I always carry some bucktail on the brass sleeve with mylar to add flash to my hooks when sea bass or flounder fishing.  During flounder season, a couple of your favorite flounder rigs are also nice to carry.  Add a couple good snap swivels, barrel swivels, pliers, bait knife, extra zip lock bags for used rigs and line cutter and your tackle box is complete.

            It's not absolutely necessary to have a real tackle box if you only do a certain kind of fishing once in a blue moon.  I condense my tautog box into one clear trans-box.  My surf box is a sturdy old reel box. I grab it and throw it in a 5-gallon bucket when I get a couple hours to hit the beach. The less you have in your box, the easier it is to keep organized. Label the box on the outside. Keep it simple, but replace what you lose every time you go fishing. Don't borrow from one box and forget to replace the contents. (If you do this, write yourself a BIG NOTE or you'll find yourself out on the beach with a big skate and no pliers, or out on the flounder boat with no snap swivels!


      This article is geared for fishing in and around Ocean City, MD, Assateague, and Delaware Shore but of course, will apply for any East Coast fishing.

Good fishing... See ya soon, in Ocean City, Maryland... and surrounding areas of the Delaware Seashore State Park, Bethany, and Fenwick Island, Delaware.

Need Rigs and Tackle, buy online 


Good fishing….
Last Updated on Tuesday, 29 March 2011 00:43